Wildlife Haven is located in north central Ohio, in the area of Galion, Mansfield, and Bucyrus. When we began operating as a rehabilitation center we lived in the small village of Tiro and worked out of our home, mainly using the upstairs rooms to house animals. As time went on & admissions increased we had to change & grow in order to give the best care possible.
Eventually, we were able to move the animals out of our house and into a small clinic/nursery on the ground floor of our 3-story barn. The second floor of the barn was divided into 6 areas for housing various species and the third floor was used for storage and had a small pigeon loft. We had a small amount of wooded land out back for our pre-release caging. It worked well for us for quite a few years. However, being in town was not ideal and we also outgrew our space. In order for Wildlife Haven to have a permanent home of its own we needed to relocate.
In 1999 Wildlife Haven, with the help of several interested backers, purchased a 5 acre rural property at auction, consisting of a nice small house, and several marvelous cement-floored barns and outbuildings. We now have a nice office space, an outdoor public display area, a large clinic with separate wards for different types of animals along with a small kitchen and an exam room and supply room. One upper wing of the barn holds 5 separate 12x12 flight areas, each with its own window/access to the outside. A downstairs area contains a large stall with 5-foot high solid walls for incoming fawns.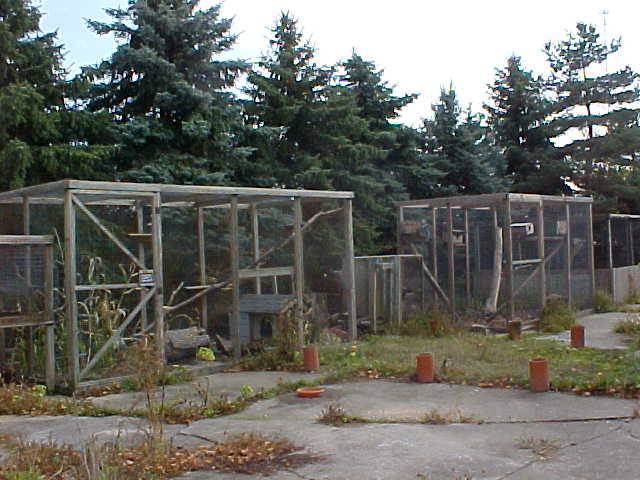 Our outdoor pre-release caging is in several areas. A songbird aviary, where the nestlings are moved to once they hit the fledgling stage, is not far from the office, a larger one is out behind the pine trees. A large cement-pad area between barn and pines houses 4 large cages: 3 for squirrels and woodchucks and a large waterfowl pen with a 500 gallon pool inside it. The 2 acre woodlot at the back of the property holds the large triple section pen used for skunks and opossums. This pen measures 16'x16' and is 8' high. It consists of 3 separate sections, one of which is 8'x16' and the other 2 are 8'x8'. There is also a 24x36 pen for the young raccoons, and at the very back, opening out onto cropland and a big woods beyond, is the 10,000 square foot deer pen.
In 2001 we purchased the 5 acres adjoining us to the south. This doubles our size and provides a buffer zone between us and any possible residential building on adjacent land. We have, working with Crawford County Soil and Water, been creating a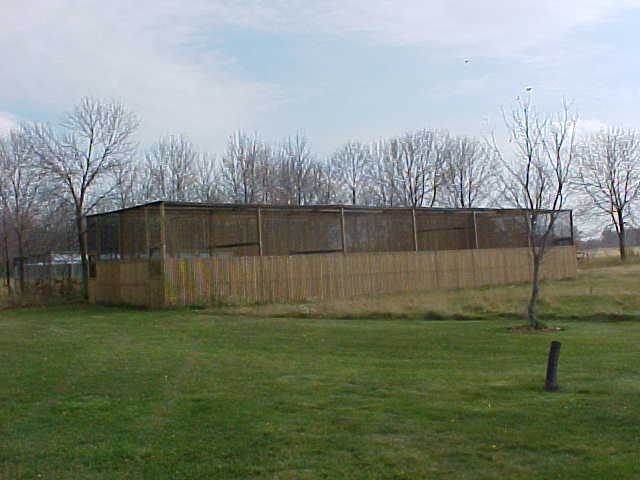 nice block of wildlife habitat from land that has been continually farmed for years. We now have a small wetland (.8 acre) and the rectangular-shaped acreage has 4 rows of plantings along its south and east perimeter - an outer row of Norway spruce, next a row of red oak, then white pine and finally a row of mixed deciduous shrubs, all of which produce cover and berries.... can't recall all of the kinds but there are about 6 different types. As of last fall (2002) we were having a fairly good growth and survival rate on these plants - except for what the deer and rabbits have eaten off! The remaining land is planted to native grasses and wildflowers. It will be years until this area provides really good habitat but it is amazing what we have already seen out there.....killdeer nesting, great blue herons and a few ducks at the wetlands, meadowlarks - few and far between in our area, lots of rabbits, several types of frogs, and many other things! We have had tree swallows move into nest boxes we have provided - there had never been any around here before. The bluebird population has increased and the meadow provides wonderful bug-hunting opportunities for both those bird species plus the colony of barn swallows who live in one section of our barn. The wetlands is used by them, too! The swallows all skim the surface for drinking water and the barn swallows gather mud around the perimeter to use for their nest building and repair!
In spring of 2001 a generous donor supplied labor and materials and built a beautiful big 3-section flight-complex for us. This aviary has two side-by-side sections that measure 12x60x12 and a smaller 12x24x12 section runs across the back of it. It has been fully occupied nearly all the time since it was finished!