Well.... just decided to get with this latest thing a bit.... this 'blogging'. Nothing more than a public journal, really. Just have to remember that it IS public. I expect I will start out and do semi-regular entries and then when my work gets busy in the spring that will be the end of it! We'll see.
Cold this morning - 10 degrees - and everything was beautifully frigid. Trees rimed with frost, when the sun came up everything was so gorgeous! A fresh powdering of snow on top of the several inches already down.
Into town early to take my IRS 990 to the accountant for him to check - stopped by the grocery and the dollar store and then home to putz around with paperwork.
Some days it seems like all I get done is letting the dogs in and out!
Bo is the spotted one, Tia is the black, and Leo is that tiny little fart bringing up the rear. And to think, last year at this time we were dogless! We had lost both our old dogs in 2004 and 2005 after loving them for 17 years. We were without a dog for a few months and then got Tia. Should have stuck with one.... but you know how it is......
I am doing better - some days more so than others. I never realized how difficult it would be when Mom left. I miss her so much and the fact that she lived right here in her little house and was a part of my daily life just makes it worse.
But she had a long life - 87 - and was really quite healthy both physically and emotionally considering her age. I could see her failing this last year... getting a little more forgetful and less sure of herself. But still - you never realize what it will be like when they are gone. All I have to do is think of her and I start to cry.
Her bag of a cat, Golda, misses her, too. I go in every day and take care of her and sometimes spend a little time. But she's a stand-offish cat anyway. Sometimes she is frantic for attention but usually she just ignores me. I tend to turn the TV or the radio on for a few hours each day so she will have some normalcy in her life.
Had a call from a young man named Nicholas who is in the Key Club in high school and wants to volunteer. Sent him an application - would be nice to have a guy volunteering....hopefully one who can pound a nail or two.
Made creamed dried beef and a salad for supper. Going to make some blackberry crunch in a bit for a snack. Chuck will like that and so will I. jack would like it VERY much if he were home but he is currently down south with his work. Talked to him a few days ago and he was in Mississippi.
Hard to imagine, looking out the window at the snow, that I was out there in the woods picking those berries not all that long ago! All hot and sticky and scratched to hell and back from the thorns! But my they're good!
Dancing with the Stars is on tonite.... and Survivor. I'll tape Survivor and watch it early in the morning while I have some coffee. Think I will go read a bit - still have to do the dishes, too.
Tomorrow I pack up Rocky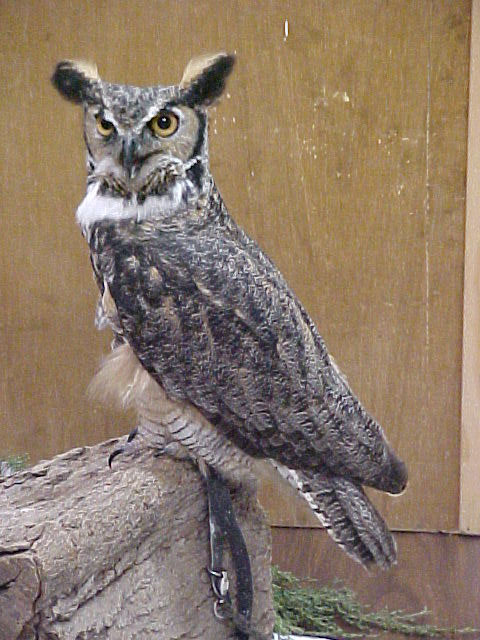 and head over to Stingel Elementary to do a couple programs for the first graders. They have so many (140 or so) that we decided to split them into two groups.
Chuck and I just may head over to Mansfield after he gets home and see The Pink Panther w/Steve Martin and Beyonce Knowles. It opens tomorrow.
We have a busy weekend planned.... Going to play cribbage Saturday nite at Tammi & Andy's house and then on Sunday nite Claire, Tanya and I are heading over to The Renassaince to see Oklahoma! I am not looking forward to it - Mom was supposed to go - we bought the tickets in early December.
Posted by wildlifehaven at 6:31 PM EST